Back to blog
There is that moment. The one when you turn the engine off, climb down from the cab to feel revitalising, fresh air hitting your lungs as you breathe deeply. When mechanical roars are replaced with comforting silence. That's the moment we search for. The one that makes it all worthwhile. Standing by your 4x4 and doing a 360 to see no-one else around is oddly comforting. At least until you remember the water crossing that stands between you and civilization on the return leg. But for now there's just silence and the wonderful sense of achievement that comes with making it to somewhere that renders the GPS useless.
Lars Vogel knows these moments well. Familiar to many as the guy behind 4WD New Zealand, he's been exploring the back blocks of New Zealand for more than a few years and was one of the first to really showcase the touring side of four-wheel driving with his YouTube Channel in 2015. We thought it was time to have a little chat about how he got started.
A Born Explorer
Lars grew up in rural New Zealand listening to his German parents' stories of adventure. "They always fascinated me," says Lars, and he credits them with instilling his sense of wanderlust.
Back in Germany, his parents purchased 3 ex-military Hanomag trucks, stripped them down and used the parts to make a 4WD expedition truck, complete with a camper on the back. Then they took off for Africa. Having conquered land, they next set out to conquer the oceans by building themselves a 34 foot sailing yacht. Their voyage across the oceans and around the world would eventually lead them to New Zealand, where they decided to stay. That's some pretty rich material for bedtime stories alright, so it's no wonder Lars would grow up with a healthy attitude to exploring.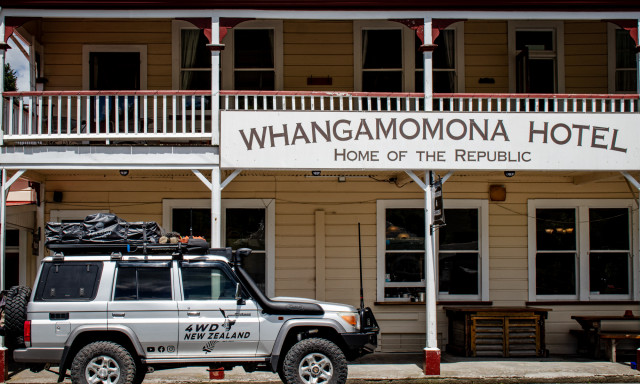 Early Adventures in 4WD
That sense of adventure led him to Australia, where the 4WD bug was to bite (arguably the safest bite you can receive over there). Now, the Aussies do some pretty mean 4WD tracks. And with approximately 1,226 km between towns (we might be exaggerating a little) knowing how to set up a 4WD becomes as much second nature as recognising which snake can kill you just by looking at you. So when Lars started working over in Aussie, he noticed the need to set up a 4WD properly for overland adventures; "In Australia, the equipment you put on your vehicle keeps you alive".
She got sick of listening to me complain about wanting a 4WD, so sent me a list of Trade Me listings and told me to pick one.
At the same time, Lars started watching some TV shows on four wheel driving and presumably talking pretty incessantly about the topic. It was certainly enough that his girlfriend decided action was needed. "She got sick of listening to me complain about wanting a 4WD, so sent me a list of Trade Me listings and told me to pick one". His pick was then transported from Christchurch and presented as a surprise. What is not a surprise is that the girlfriend is now his wife. Nothing says I love you more than the gift of a 4WD - so feel free to share this with your significant others and then keep your fingers crossed.
The vehicle was a 1989 BJ74 Landcruiser. "We then started fitting it out for a 2 month trip around the South Island. That was really the start of the bug, which for me is the exploring side of seeing New Zealand. The vehicle is the tool".
That first adventure taught a few lessons. Not least, the fact "there was a lack of information in touring. Plenty in off-roading but nothing for the touring overland industry". Which gave rise to an idea.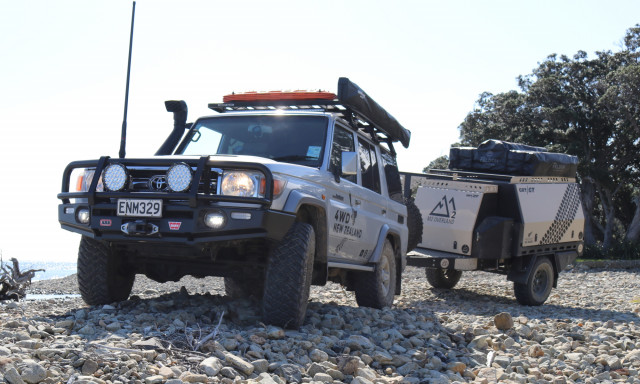 Getting Started in Overland Touring
It's the Kiwi way really. If there's a problem that needs solving then we just get on with it. Need to get up fast-flowing rivers that are too shallow for propellers? Invent the jet boat. Need some yeast to spread on your toast and put off by the smell of vegemite? Invent marmite (well, purchase the recipe from the Brits anway). Whatever the problem is, us Kiwi's get the job done. Which is what Lars has done with 4WD New Zealand, as it aims to promote and educate folk about overland touring with a 4WD. It's there to solve a problem and provide some answers people might have about touring.
Just probably not this one. Because we wanted to know which standard 4WD makes for the best starter vehicle. Alas - if you're hoping for someone to settle the Ranger vs Hilux argument you'll be disappointed. "The Jeep Wrangler is probably the most capable 4WD out of the box. They also have their limitations but there are so many accessories available for them" answered Lars. Although to be fair, he also said "modern 4WD's are all very capable, you need to decide what you want for yourself". Which is a fair point.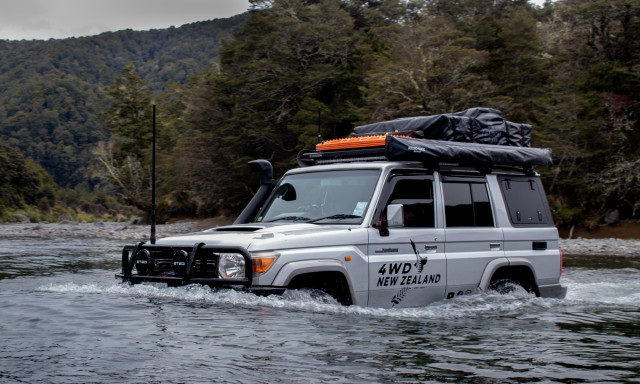 So what does Lars himself drive then? A 76 Series Landcruiser with a 4.5 litre V8 Turbo diesel engine. It has a solid axle front and rear, diff locks front and rear...and a few pinstripes down the side from exploring missions. "There is no competition for a 70 series Landcruiser at the moment (aha - the truth comes out!). I've always liked the looks of wagons and my wife was pregnant so we needed a 4 door".
Also, that original 1989 Landcruiser had been rebuilt 3 times by now. Each rebuild delivering a few lessons, as "an older vehicle teaches you a lot about working on your own car. If you find a good mechanic, stand by them when they're working on it. The University of YouTube is good for learning too". Presumably this is if you can wrestle the controls away from a 6 year old watching Blippi for the five hundredth time. Or one of those weird unboxing videos. Mind you...unboxing some 4x4 accessories we could get behind.
Back to the vehicles, Lars prefers a wagon for other reasons than the number of doors. "The biggest advantage is instant security. Gear is dust proof and out of the weather. With a ute, you have to invest more money to set it up for camping". However, Lars concedes that doing so might achieve the best outcome in the long term as a proper ute setup can be "more practical".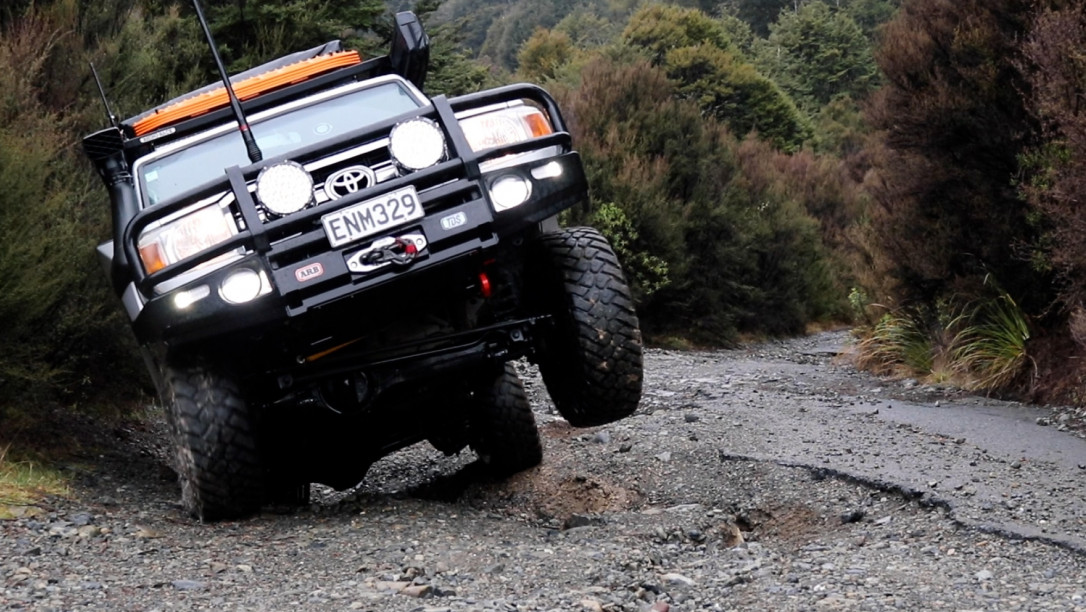 But back to the original question as to which 4x4 is best? The answer might be as political as a fella trying to settle the debate as to whether his wife's cooking is better than his Mum's or not (no winners there)...but Lars is right; "it's more about what fits the person".
Whatever your choice of vehicle, it seems there is one universal truth. "It pays to know your vehicle and learn it's common problems. Everyone who has been doing it for a while has had a breakdown in the middle of nowhere and had to fix something themselves to get back home again".
Which seems a wise slice of advice. As is this from Lars- when getting started with your 4WD adventuring, take a look at the NZ 4WD Association website and find a club near you. It's well worth learning with a few like minds and building up your confidence on some organised trips, so we'd second that top tip.
We'll return to our talk with Lars in another blog. There's some technology to be discussed, the must haves for a 4x4 starter kit, river crossings and...we also get to tyres. So that's the really good stuff then.