Back to blog
We talk pretty tough about the MT772 Razr MT. That's because we know just how good it is. We've seen it swallow and spit mud for breakfast, chomp rocks for lunch and then settle down for a real meal in the evening. But we also know not everyone will believe us when we say that. After all, we are a little bit biased.
So, it's important to get the big guy in the ring and to battle it out with the best of the best. Yup - why not pit the Razr against the competition in a good honest, mud-slinging, rock-clinging 4x4 tyre test by an independent team? So we did.
Then 4x4 Australia decided the battle wasn't going to be off-road. They decided those bulging tyre muscles were to be assessed based on their ability to perform on the road. They argued most mud tyres spend the majority of their time on tarmac, so choosing the best has to be based on performance levels where they spend their time. This may be true but it can feel a bit like assembling some top bodybuilders and then ranking them on their ability in the kitchen. Still, the Razr is up for a street fight as much as a mud fight.
There's also another reason for the team at 4x4 Australia taking it to the tarmac. Namely, it's really difficult for an off-road test to be completely fair as you can never perfectly replicate the driving conditions. On a track, you can keep the fight completely fair. And we were cool with that too.
And In This Corner...
Battling it out against our hero were some decent slices of rubber from our friendly competitors:
Bridgestone Dueler MT

Sunwide Huntsman

BF Goodrich MT TA/KM3

Kumho Road Venture MT51
Gathering at the Pheasant Wood Circuit, a little south of Sydney, each tyre had to be a 265/65R17. They were then fitted to a production model Ford Everest. Although there was nothing special about the vehicle itself, sitting behind the wheel was Paul Stockwell, an Australian racing champ who knows how to push tyres to the edge. Paul was aided by a Vbox Data Logger to measure the G Force, speed and track position.
Round 1: Dry Braking
This test was pretty much what you'd expect. The Ford Everest is accelerated to 100km/h before the brakes are hit hard. The winner is simply the tyre which takes the least amount of distance to come to a complete stop. Which in this case was the Bridgestone Dueller, managing to pull up in 46.04 metres.
In a tight contest, the Razr stopped in 47.93 metres. The worst performing tyre was the Sunwide, coming in 5th place at a distance of 48.07 metres.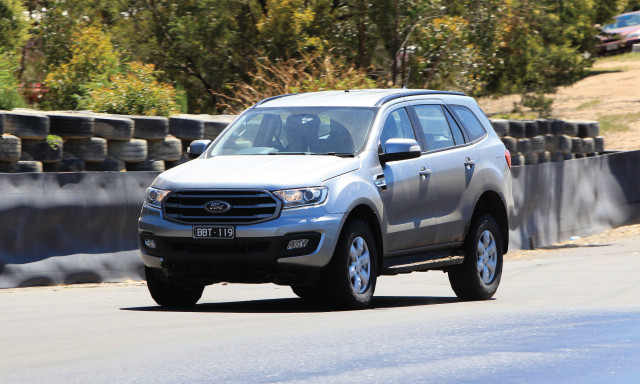 Round 2: Wet Braking
We know the ability to brake in the wet is a key consideration for any tyres, especially for mud tyres. Bang on some new mudders and one of the first questions you'll be asked is 'how do they perform in the wet?' So - how do the challengers perform in the wet? Sliding across the line in last place was the Sunwide Huntsman again, with a total distance of 58.45 metres.
Round 2 is the round where our hero comes good, storming to 1st position after coming to a complete stop in 52.51 metres. That's a full 1.3 metres ahead of the 2nd place tyre and underpins why we're keen to tell you about the Razr's ability in the wet.
Round 3: Dry Cornering
It's pretty rare (thankfully) that tyres are tested by having someone hammer the brake down as hard as possible. A much more likely scenario is driving a little too fast around a corner and getting the butterflies as you instantly realise your error.
To determine the best tyre for dry cornering, the team at 4x4 Australia put the tyres through their paces by having them speed around 3 corners. The total elapsed time would decide the winner (1st place to the shortest time). So who could hold on and whizz around without slipping out and letting go? Yup - it's another round to the Razr in 15.77 seconds. The Bridgestone and BF Goodrich tyres were 4th and 5th in this test.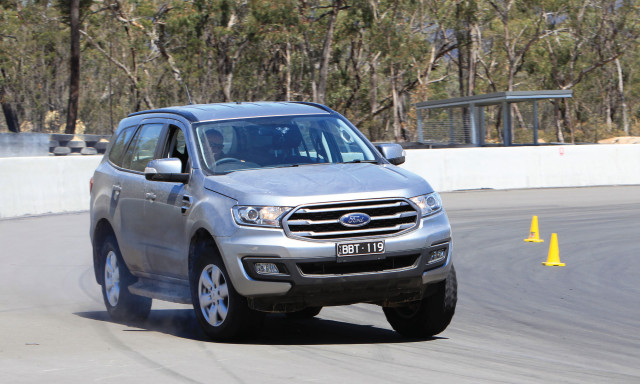 Round 4: Wet Cornering
Same theory as the previous round but only 2 corners. And they're wet, of course. It's probably a more likely diving scenario too. You're heading home after a sprinkle, taking a corner at the usual speed only to discover a nasty bit of standing water has accumulated.
When that does happen, know the Razr is the best choice. Winning another round, our hero took the turns in 11.28 seconds. Following up in 2nd place was the BG Goodrich (11.54sec), then the Sunwide (11.76sec), Bridgestone (11.78sec) and Kumho (11.84sec).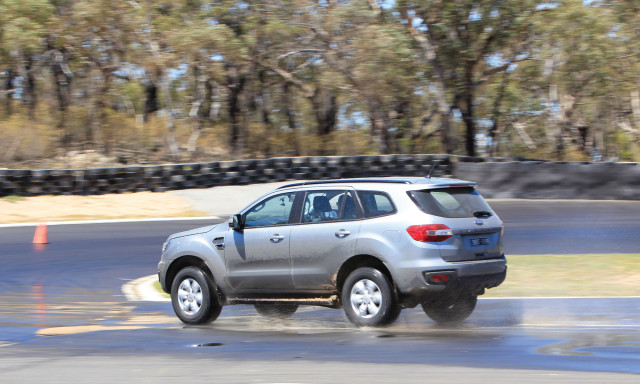 Round 5: Price
So - prices change*. All we can say here is we know how we price our tyres and think it's reasonable for the quality they offer. But this round called for an assessment of retail prices with a few points up for grabs (but just a maximum of 10 points - so not enough to really influence the outcome of the other 4 rounds which offered up to 100 points per round).
No surprises, Sunwide claimed this round with the lowest retail pricing. The Razr was a middle-of-the-pack performer, coming in 3rd and cheaper than both the BF Goodrich and Bridgestone tyres.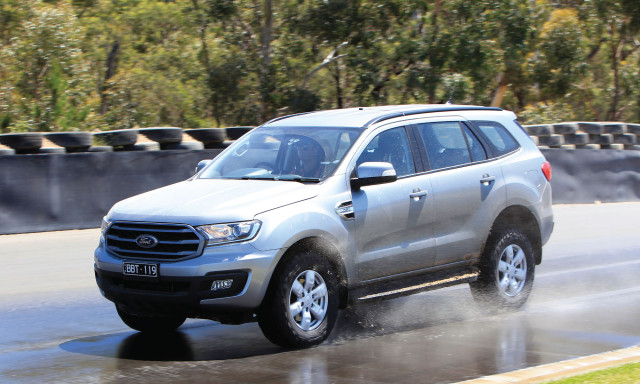 Seconds Out...
We know, this is us writing about a tyre test so you might think we have an ulterior motive. Well...before we get to that, let's have a look at the final scores from each round:
DRY BRAKING (100-0 km/h)
1st
Bridgestone
46.04m (100 pts)
2nd
Kumho
47.29m (97.3 pts)
3rd
BFGoodrich
47.92m (95.9pts)
4th
Maxxis
47.93m (95.9 pts)
5th
Sunwide
48.70m (94.2 pts)
WET BRAKING (100-0 km/h)
1st
Maxxis
52.51m (100 pts)
2nd
BFGoodrich
53.78m (97.6 pts)
3rd
Bridgestone
53.86m (97.4 pts)
4th
Kumho
55.79m (93.8 pts)
5th
Sunwide
58.45m (88.7 pts)
DRY CORNERING ( 3 CORNERS - COMBINED TIMES)
1st
Maxxis
15.77sec (100 pts)
2nd
Kumho
15.80sec (99.8 pts)
3rd
Sunwide
16.12sec (97.8 pts)
4th
Bridgestone
16.14sec (97.7 pts)
5th
BFGoodrich
16.18sec (97.4 pts)
WET CORNERING (2 CORNERS - COMBINED TIMES)
1st
Maxxis
11.28sec (100 pts)
2nd
BFGoorich
11.54sec (97.7 pts)
3rd
Sunwide
11.76sec (95.7 pts)
4th
Bridgestone
11.78sec (95.6 pts)
5th
Kumho
11.84sec (95.0 pts)
PRICE*
1st
Sunwide
$210 (10 pts)
2nd
Kumho
$283 (6.5 pts)
3rd
Maxxis
$305 (5.5 pts)
4th
BFGoodrich
$350 (3.3 pts)
5th
Bridgestone
$370 (2.4 pts)
*Prices shown are in AUD from 2020, supplied by a single source. They are not indicative of current pricing and we recommend you contact your new nearest fitter for accurate pricing.
And The Winner Is…
...the snarling, rock-thumping, grit-munching monster of a tyre that is the Razr. In the words of 4x4 Australia "it was a clear winner".
So that's the reason we're writing about this then. But it's also because we know how important it is to have independent verification of a tyres performance. You can read the 4x4 Australia Tyre Test article here for a completely unbiased view on the Razr. Also - ask your mates. They'll give you an honest view of the Razr.
Oh...and if you're wondering how well they go off-road. Let's just say they get even better when they hit the mud.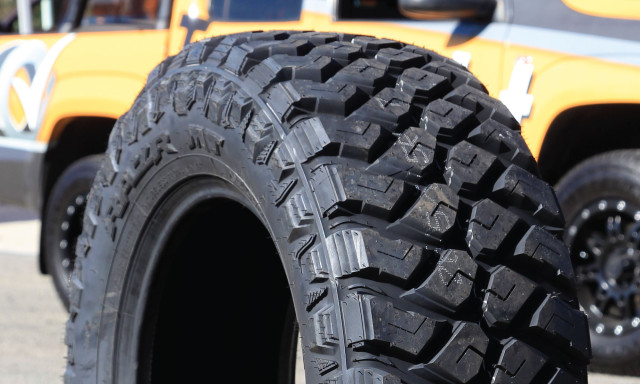 Check out the Maxxis RAZR MT772's performance in the test