Back to blog
They say if you want to make a mechanic cry, all you have to do is show them an aerial photograph of the Baja 1000 course. Such is the sheer lunacy of the race that only the most fearless, courageous and possibly a little unhinged, would dare enter.
Sounds perfect to us then.
How the Baja 1000 Started
It's probably not surprising the race has its origins in the home of crazy. Yes, that's right, we can thank Hollywood. Specifically, we can thank a Hollywood Stuntman.
You might not have heard of Bud Ekins but chances are you've seen him in action. Bud was responsible for two of the greatest vehicle scenes in cinematic history. When Steve McQueen jumps the barbed wire fences on his Triumph motorcycle in 'Escape to Victory', it was Bud Ekins doing the riding. And when Steve McQeen was racing through the streets of San Francisco in 'Bullitt', in what is now the world's most expensive Ford Mustang (the car used in the film sold for US$3.4 million in 2020), it was Bud Ekins doing the driving. Not a chap scared of the odd risk then.
In 1962, when Honda wanted to test the durability of their new CL72 scrambler, they approached Bud to put it through its paces. For most people it would have meant a few hours trying to make it do things you wouldn't do with your own bike for fear of breaking it. But Bud had other plans. He decided it would be much more fun to take it to Tijuana and then race to La Paz, on the Baja peninsula. Quite why he decided to take it 950 miles across the type of terrain even reptiles try to avoid, is anyone's guess. Not many people would surely think to themselves 'let's go on a journey where we need a plane to fly ahead and leave fuel for us'. These Hollywood types aye. They're always full of big, fancy ideas.
It was certainly big and fanciful enough for Bud to persuade his brother Dave, along with Bill Henderson, who owned a local Honda dealership, to join him. Then they needed to persuade a pilot to fly ahead and strategically leave some fuel and cheese sandwiches. They needed to persuade a few local ranchos to part with a fuel litres of fuel. And we imagine they also had to persuade their significant others it was a good idea and they'd be perfectly safe from harm. Those acting skills might have come in useful there.
Timing for the race was via telegram. They sent one from Tijuana and one from La Paz when they finished and the whole course was completed in just under 40 hours. Which isn't really important. What is important is that they completed it.
Equally important is that someone by the name of Ed Pearlman was paying attention. Because Ed would go on to establish the race proper, starting in 1967. It was called the Mexico 1000 then and ran for 6 years before the oil crises put a stop to most vehicular fun in the world. That may have been game over for Ed Pearlman but the Baja 1000 had already captured the petrol head's imagination. Folk don't forget crazy races.
Sal Fish & SCORE International
Poached from Hot Rod Magazine, Sal Fish was tasked with turning the new SCORE Baja 1000 into something special. This was 1973 and SCORE (Southern California Off-Road Enterprises) had big plans.
Sal knew the kind of racing drama produced by the Baja 1000 demanded more coverage. This was extreme racing and few people would have ever seen or read about something as fast and dangerous. He was right. Coverage was sold to local and international stations, with journalists from around the world converging on the race to report on the stories that would emerge from the dust. Drivers were about to become heroes to little kids and legends would be born.
To be fair, over the years more than a few stars have entered the fray and that helps the popularity too. Bud's good buddy, Steve McQueen, had a shot at it. As did Mario Andretti. And an 80 year old Paul Newman became the oldest competitor when he took part in 2004.
When Sal finally decided to retire and sell SCORE International in 2012, the Baja 1000 had firmly cemented its position as one of the most dangerous races in the world. It's a kind of dystopian race for survival, full of mechanical carnage and unrelenting drama, as only a few make it to the finish line.
How You Win the Baja 1000
Let's be clear, just finishing the Baja 1000 is an accomplishment. It's one of those races that'll have drivers and mechanics awake late into the night with worry. Then when they start, they'll be awake late into the night trying to keep the vehicle moving. This is not an endeavour for the faint hearted.
So how do you win this thing? First up, anyone can win it. You don't need any sort of licence to enter. You just need to be a little bit loco. You also need to decide which class to enter in as the list is absolutely huge, with 47 classes of racing. If you're a 60 year old motorcycle enthusiast, there's a class for you. As there is for everything from stock trucks (essentially you could enter a bog standard Ranger or Hilux) through to the type of customised off-roaders that look like something from a NASA mission to Mars.
Secondly, winning means avoiding the booby traps. Yes, locals like nothing more than trying to scupper efforts by digging a hole or engineering a ramp. All that careful preparation can be rendered useless as overnight a jump is added by some tequila fuelled pranksters who want to see vehicles take to the air. That's probably another reason for staying awake then.
Lastly, go fast. This is a timed event and the winner is the team who makes it through to the chequered flag in the shortest time possible. Only sometimes you need to go slow to go fast. This is a race that demands a unique mix of reckless abandon and off-road long equation nuclear physics. Well, really complicated maths by people who wear lab coats and get excited about pipettes. Anyway, you get the point. This is a hard race that requires something extra. Like tyres. Really, really good tyres.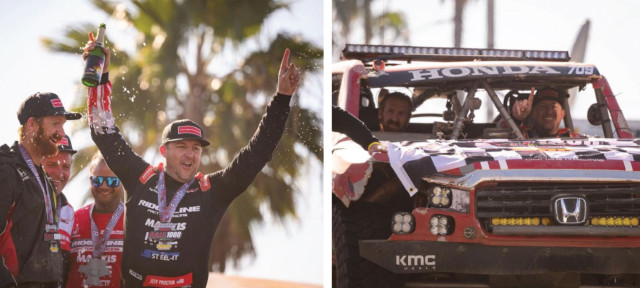 Jeff Proctor led the Honda Off-Road Racing Team to win the Class 7 of the Baja 1000. Images: @proctor_race
The Maxxis Razr MT
We could hardly talk about the racing lineage of the Razr MT if it never completed in the Baja 1000. This is a race that should be the benchmark for any off-road tyre as it's very unlikely they'll be given a rougher ride in their lifetime. After all, not too many of us subject our tyres to 828.25 miles of unrelenting terrain in the type of heat that'll boil an egg should you drop one on the ground.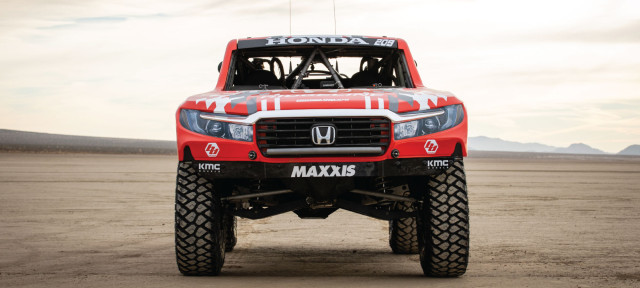 Maxxis Razr MT is your trustworthy companion when exploring the outdoors
Putting the Razr MT to the test in Class 7 is the Honda Off Road Racing Team. They run an unlimited V6 powered truck with twin turbos and horsepower just north of 550. It goes like crazy and makes the kind of rumbling sound that'll make grown men go all misty eyed with appreciation.
Making the driving team misty eyed are the lumps and bumps of the course that'll see them take to air at speeds over 100 km/h. There's sand deep enough to bury small cities, water hazards that appear quicker than the West Coast rain and enough sharp objects to make the average person want to cuddle up in a ball underneath a table.
Luckily, the Honda team didn't do that. And the Razr MT doesn't do defeat, relishing the challenge with the kind of giddy excitement of a dog about to be let off the leash. It was a combination good enough to power Maxxis and Honda to a winning run, finishing in 21 hours, 42 minutes and 56 seconds.
We know what you're thinking. This could have been a one-off. Only it was the 2nd year in a row for the Maxxis Razr MT and Honda, who followed up the 2021 win. That was a longer course, taking 27 hours and 10 minutes to complete.
It's not a boast to call the Razr MT the undisputed king of tough terrain, as proven in the most dangerous races on earth! Anyone who says otherwise is welcome to challenge us in 2023.