Back to blog
A good 4x4 project is full of fun and frustrations in equal measure. It's a spanner throwing, late night demanding, bank account draining slice of life we can't get enough of. So why do we do it? Why do we dream up these big ideas and then dive head first into them? The reasons probably vary as much as the scope of the builds themselves. We thought it would be interesting to delve deeper into a build to find out the reasons behind it. So we did.
Blueprints for a 4x4 Build
Caleb Thompson might be known to a few of you. A feature on the 4x4 scene in New Zealand, he's behind Off Road Addiction TV and Ultra4 NZ. He's also been sharing a 4x4 build known as 'Project #tightsqueeze' that has been playing out on YouTube for a little while now. Viewers get to follow the progress of the build, as Caleb explains the thinking behind his tinkering. But why do it?
It's "my public showing of how stupid I am" says Caleb. Having watched a few of the videos on project #tightsqueeze, we know this is not true and he's just joking. Rather, the truth is that Caleb had been on the road a fair bit and collected "..some ideas and wanted to try them out". It's more than that though. It's also a way of …"showing that anyone can do it if you have the time and some patience".
It's about showing that anyone can do it if you have the time and some patience.
Us Kiwis are pretty good at tinkering, at picking up tools and having a go. So Caleb likely has a point. Especially considering he himself is largely self-taught. In his case, the knowledge comes from necessity and not having the money to take vehicles to the garage when he was young. If you can't afford to get your car fixed, then doing it yourself is sometimes the only way to get your wheels back on the road. It certainly worked out ok for Caleb.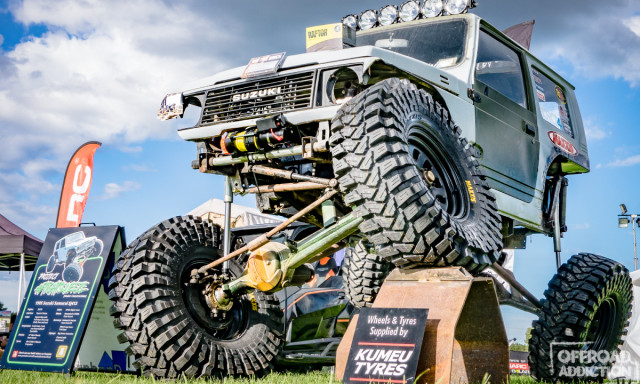 The Samurai mid-build: spotted at the Kumeu show rocking 42" Treps.
For the most part, basic tools probably will see you through. Whilst Caleb's workshop has a few toys in there now, it wasn't always that way and started out with pretty much the same tools most of us have likely amassed over the years. You know, the usual mixture that's been passed down, on permanent loan from neighbours and friends, or purchased with those Mitre 10 Gift Cards received for Father's Day, Birthdays, Anniversaries etc.
The most difficult part of the building process is likely the roll cage. That calls for a bender and some knowledge of design. For the rest, it's normally possible to beg, steal or borrow what's needed (that's just a phrase by the way - don't go and steal anything).
The story so far
For Project #tightsqueeze, the story so far has played out over 74 YouTube episodes, dating back to November 2017. That's a lot to recap and we'd recommend setting some time aside, a couple of choice pies and maybe a tin of fizz for catching up when you can. You'll discover how a 6ft 3 chap manages to squeeze himself into the cab of a recently purchased Suzuki Samurai (spoiler alert: the seats were lowered) and then proceeds to pretty much remove most of the vehicle before putting it back together with old parts, new parts and homemade parts. Mostly with anything from vehicles other than a Samurai. You don't have to be a mechanic to understand what is happening and it makes for compelling viewing. There's something about watching builds as they start to take shape too. Maybe it's because it all becomes a bit of a journey. Or maybe it's because you're just itching to see the final version get unleashed in unforgiven pits of mud and over rocks the size of small houses (which would make them bigger than a Suzuki Samurai).
The odd moments where things don't go to plan are quite good too. Because that's happened to all of us and if you haven't thrown a washer or bolt in anger, only to instantly regret it in the knowledge it's exactly the part you need...then you're missing out on the full build experience.
As to the project itself, what was originally planned to be a simple 12 month build has turned into something else entirely. Indeed, we suspect the 'Build Project Rule of 3' comes into play. This is that well known phenomenon and entirely non-scientific but still amazingly accurate law, which dictates that every build must take at least 3 times longer than planned. And it must also cost 3 times as much as planned. Try and ignore this rule all you might (especially when detailing said plan to significant other and providing estimates of time and money required) but it's always there, like mud stuck in the tyre grooves of cheap Mudders.
One of the reasons is the cost of those small items that are often overlooked. Things like cable ties, clamps and small bolts are hardly ever budgeted for properly and can chew the finances as quick as a Razr MT on a bed of rocks. Over time, these bits and pieces start to stack up and there's only so much money you can spend on the project every month. So there are delays. Then before you know it, it's almost 4 years later and you're seemingly no closer than you were at the end of year 1.
Life also has a nasty habit of getting in the way. Covid and the curse of lockdowns doesn't help either. In Caleb's case, it meant shelving the project for a prolonged period. Nothing is permanent though and walking past the Suzuki "about 300 times a day" as he goes about business is a good enough reminder there's some unfinished business to be taken care of.
Lessons from the Workshop Floor
There's many a tear shed on the workshop floor, the odd pint of blood (well, it always looks like at least a pint anyway) and more than a few moments are spent staring the workshop ceiling in quiet contemplation (by which we mean the odd swear word directed at no-one in particular and life in general).
We asked Caleb if there were any lessons to be learnt from his workshop floor and those moments of tyre kicking introspection. There was. "If you're unsure of something - ask and seek advice from others. It can save a lot of money, time and effort". Which seems like obvious advice but we're all probably guilty of ignoring it and forging ahead with only vague ideas informing our actions. Ideas that sometimes seem really, really good when it's late on a Friday night and we've turned the tunes up and emptied the chilly bin.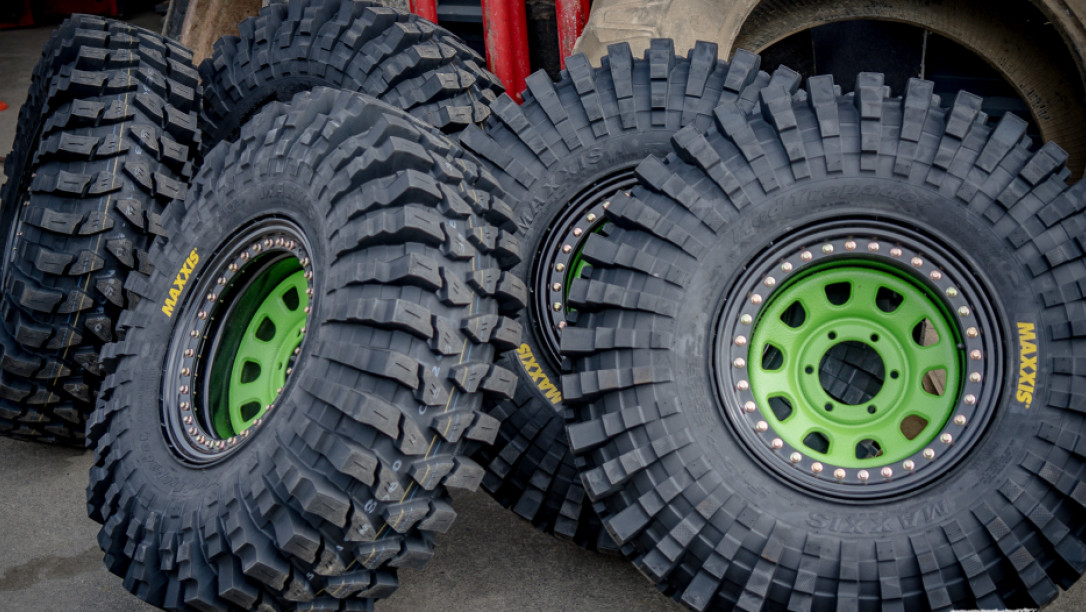 If you're unsure of something - ask and seek advice from others. It can save a lot of money, time and effort.
Future Plans
There's still a bit to do on Project #tightsqueeze. There's the wiring, some plumbing and general tidying up. But it'll get finished. And then what?
"I'll probably try and break it" says Caleb. This may seem a little foolhardy at first glance. But we'd probably all do the same thing. After all - this is a beast built for the rough stuff. It's not for a relaxing journey sipping on almond milk decaf latte.
For Caleb, the idea was always to complete the project to a good enough standard that it could be sold to a friend. Which means no corners are cut and it's a sturdy mud lover. We assume it also means if Caleb does break it, he'll fix it before flogging it.
Then it's time to kick back and put the boots up on the workbench. Or maybe not. In the words of Caleb: "I've already planned out the next 3 builds. It's what you do so I'm always going to do it".
That's the 4x4 life. Pretty good eh.